Welcome to our concert and music photo gallery. With almost 200,000 concert photos posted since 2006, this is one of the largest concert photo archives on the internet. Whether your interest is metal or hip hop, country or alternative, this archive covers a variety of musical genres amd artists.

It is our goal to create the world's largest online concert photo gallery with photos submitted by our staff members, amateur and professional photographers, and the users of our web site. Registered site users may upload up to 10Mb of concert and other music oriented photos and images for free.

To post here you must be a registered member of our site. Click here to register.
Concert and Music Photo Gallery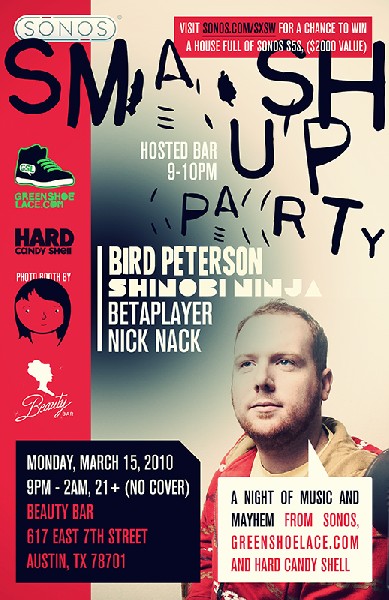 Description: The Smash Up Party is happening again this year, on the Monday night of SXSW Interactive, March 15th, at the Beauty Bar!

Those of you who attended last year remember the Annie Ray photo booth and the sweaty dance floor provided by the great talent of Flosstradamus.

This year will be just as much music and mayhem but with a new title sponsor and a new lineup.

Bird Peterson is coming off of his breakout summer and fall of 2009 when he toured the world with MSTRKRFT.

Shinobi Ninja are all the buzz in New York and the east coast at the moment.

BETAPLAYER and Nick Nack are Austin hometown heroes bringing the fun and the good looks.


Here are the deets:

Sonos Smash Up Party

Hosted Bar From 9-10pm (this means free drinks!)


Performances by:

Bird Peterson
Shinobi Ninja
BETAPLAYER
Nick Nack

NO COVER

Hosted by: GreenShoelace.com and Hard Candy Shell

Photo Booth by: Annie Ray


RSVP through the Facebook event (http://www.facebook.com/event.php?eid=390859710872) and receive priority entrance until the Beauty Bar reaches capacity : )


** Visit Sonos.com/sxsw for a chance to WIN a house full of Sonos S5s ($2,000 value)!!! **

Their sound systems are the next big thing…get all the music you love all over your house with Sonos.
<< Previous Image Next Image >>

kingsnake.com® is a registered trademark of
OnlineHobbyist.com, Inc.© 1997-2006