Welcome to our concert and music photo gallery. With almost 200,000 concert photos posted since 2006, this is one of the largest concert photo archives on the internet. Whether your interest is metal or hip hop, country or alternative, this archive covers a variety of musical genres amd artists.

It is our goal to create the world's largest online concert photo gallery with photos submitted by our staff members, amateur and professional photographers, and the users of our web site. Registered site users may upload up to 10Mb of concert and other music oriented photos and images for free.

To post here you must be a registered member of our site. Click here to register.
Concert and Music Photo Gallery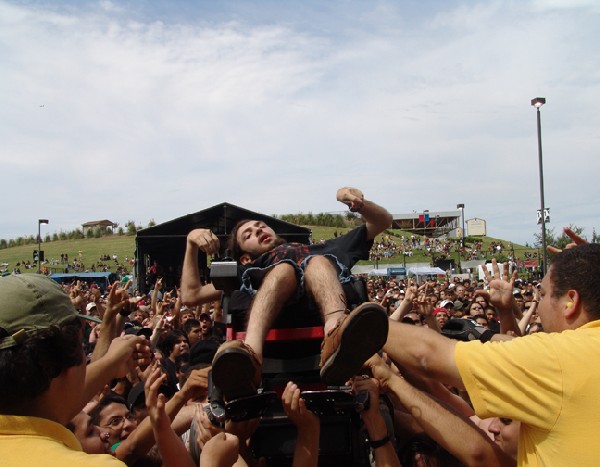 Description: I think this is my favorite photo because of what it represents. Jacob obviously is handicapped physically but has all his mental faculties intact. He is a regular at metal shows and made his way through the crowd to the front. The crowd lifted him up and "surfed" him 30 feet or so to the security staff where they got him over and he wheeled on his way. Seeing this (and a few other times he's done this) is inspiring. All these people that your average person on the street look down on handling him with the utmost of care while giving him the ride of his life. And yes, this is a concert photo - it happened during and at a concert venue.
<< Previous Image Next Image >>

kingsnake.com® is a registered trademark of
OnlineHobbyist.com, Inc.© 1997-2006