Welcome to our concert and music photo gallery. With almost 200,000 concert photos posted since 2006, this is one of the largest concert photo archives on the internet. Whether your interest is metal or hip hop, country or alternative, this archive covers a variety of musical genres amd artists.

It is our goal to create the world's largest online concert photo gallery with photos submitted by our staff members, amateur and professional photographers, and the users of our web site. Registered site users may upload up to 10Mb of concert and other music oriented photos and images for free.

To post here you must be a registered member of our site. Click here to register.
Concert and Music Photo Gallery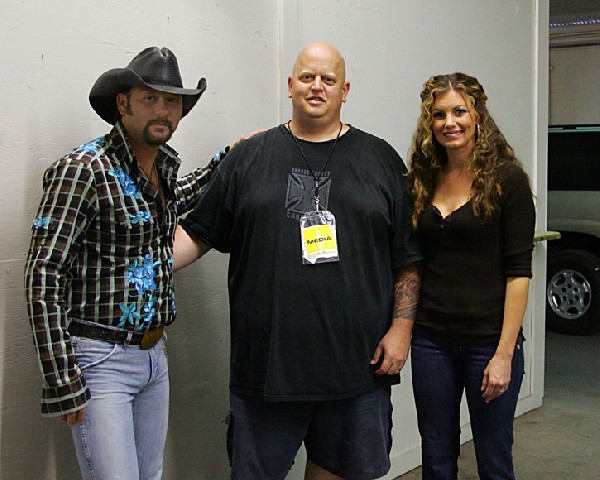 Description: Country with a metal story. I was shooting Sounds of the Underground all day at the Verizon in San Antonio but had to be at the AT&T Center to shoot the meet & greet and first three songs for Tim & Faith. Next up for Sounds was GWAR, I put on a rain poncho and wrapped my camera in plastic and dove in. I got some awsome shots and ran out of the pit tore off my poncho and got a golf cart ride to my car. I sped over to the AT&T Ctr. and had less than 5 minutes to spare. I shot the meet & greet (Smelling the worst I think I have ever smelled after 10 hours in direct sunlight), then asked them for a pic together. I had GWAR blood on my shoes and smelled like a dead rat that had crawled inside a corpse to die. They were very nice but while Faith moved right in Tim kept his distance. I realized after that I should have explained why I smelled. I will next time I see them.
<< Previous Image Next Image >>

kingsnake.com® is a registered trademark of
OnlineHobbyist.com, Inc.© 1997-2006